2019-01-21 (月) 23:30:31 (302d)
キャンパス公開2013
IIS Openhouse 2013 †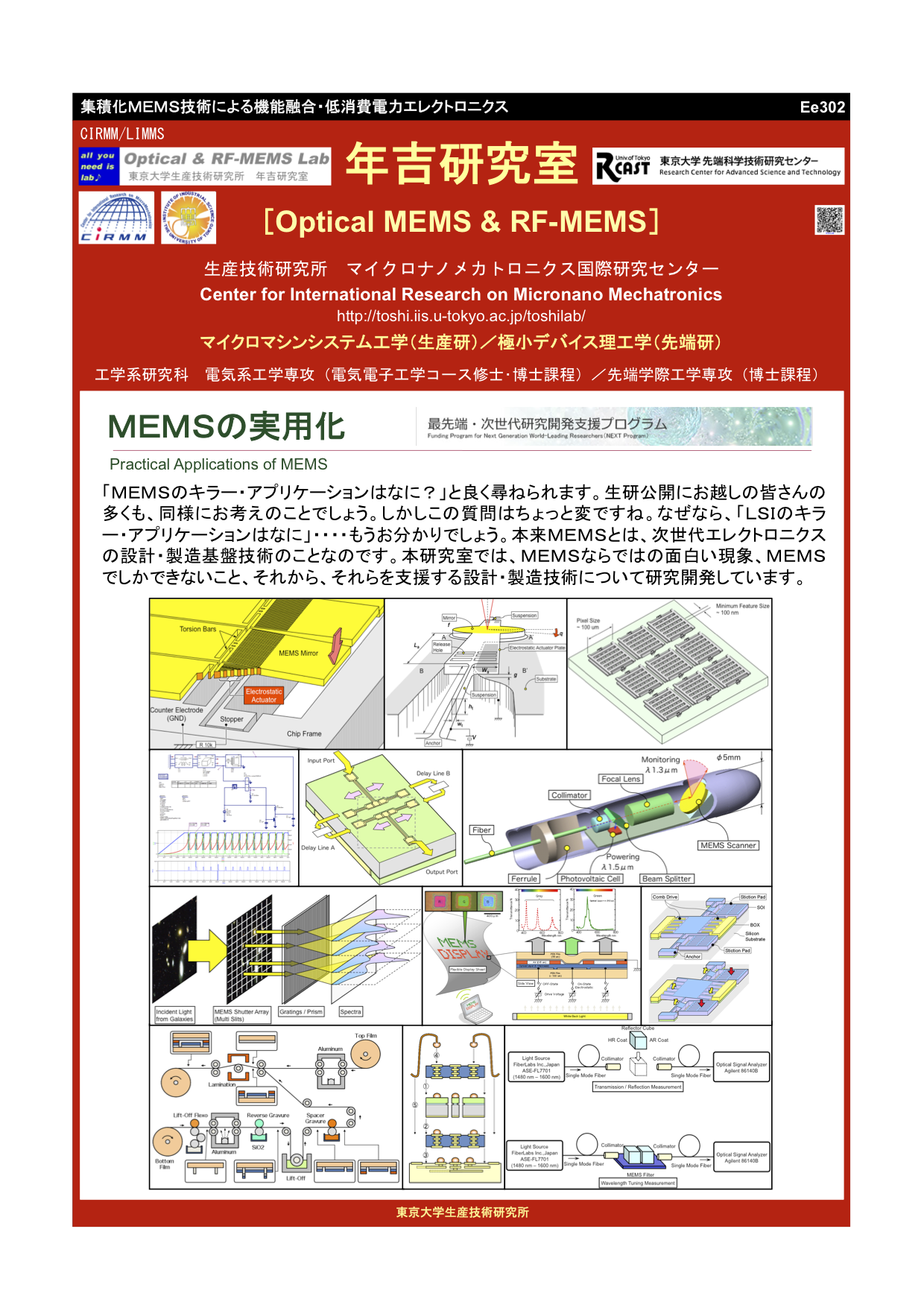 ラボの皆様
5月31日(金)、6月1日(土)の2日間にわたって、リサーチキャンパス公開(通称・生研公開)が開催されますので、GW明けにポスター準備をお願いします。
なお、5月30日(木)午後には、招待者向けに研究室のガイドツアーがあります。藤田研との共同開催として安宅さんが応対します。これに間に合うように、ポスター展示等の準備を進めて下さい。
年吉 洋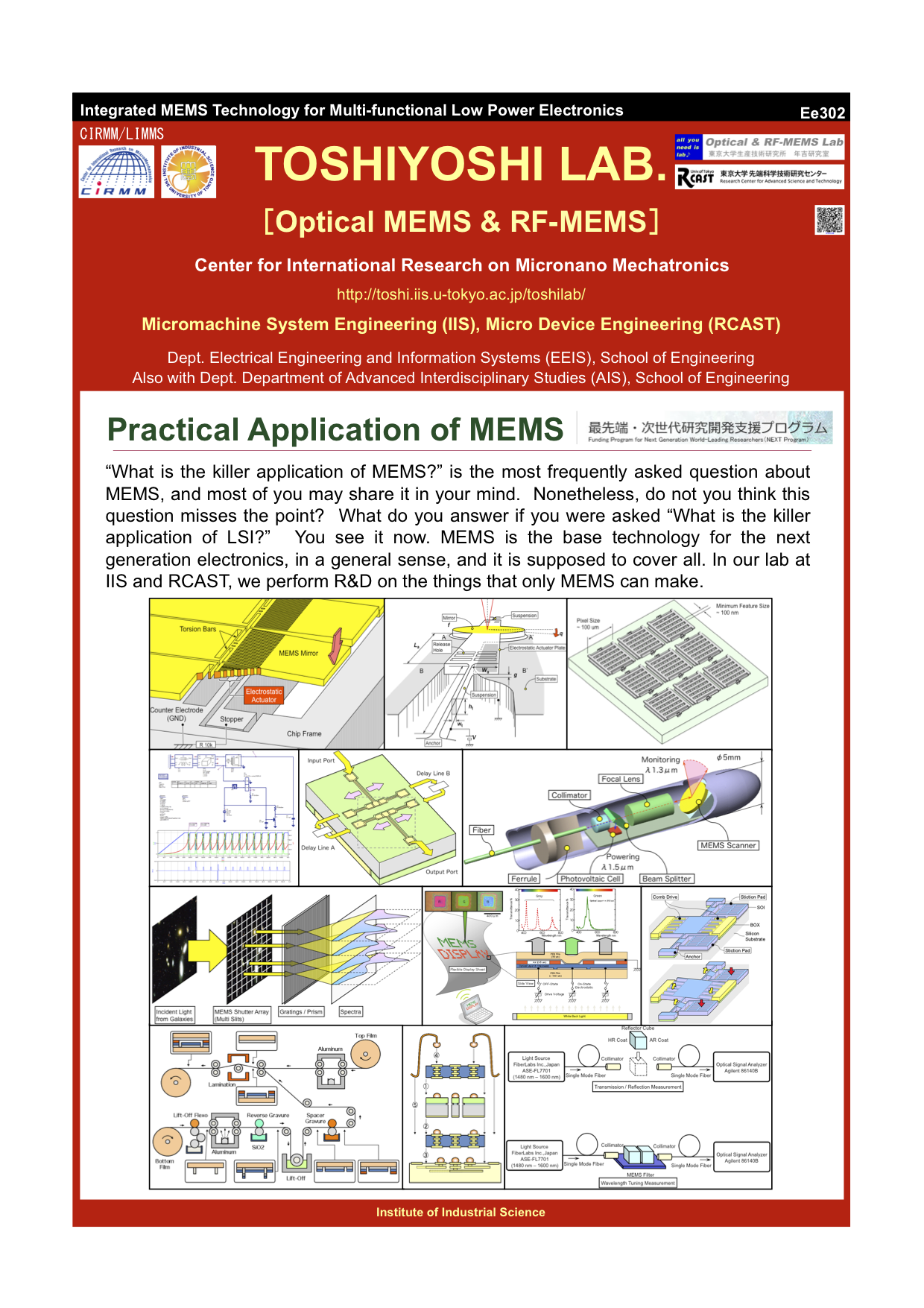 Dear Lab Members:
IIS Openhouse is scheduled on May 31 (Friday) and June 1 (Saturday), 2013. Please join us to prepare your posters for presentation.
BTW, a guided tour is scheduled on Thursday May 30 in the afternoon. Ataka-san is hosting the visitors, as this is organized with Fujita Lab members. Prepare your posters before this guided tour.
Thanks,
Hiroshi
発表予定ポスターと担当者(案)
Posters to be Presented and Authors (Draft) †
方針:既発表の案件のみを公開
研究室全体説明(年吉)
細胞操作μTAS(アニエス、ニシャド、いひださん)
雷計測(齋藤さん)
マイクロシャッタ改良版(高橋くん)
MEMSインタフェース回路(サトマル)
PZT共振子アレイ、トランスデューサのポスターから(ニコラ)
LSI接合、NHK放送技研ポスターの再利用(後藤)
THzフィルタ(じぇんり、たぴお)
プログラマブル・アンテナ構想、D1輪講から(よん)
インタラクティブ・ディスプレィ(そんほ&スタンレー)
人工ワーム(じゅなん、研究構想)
OCT、会社の宣伝ポスター再利用(きよきよ)
RFーMEMS VCO、うらやまさんMEMSポスター(年吉)
Policy: We present posters that have been already reported elsewhere.
Lab Overview on RF and Opto (Toshiyoshi)
Micro TAS for Cell Handling (Agnes, Nishad, Ihida-san)
Lightning field work (Saito-san)
Micro shutter array improved (Takahashi-kun)
MEMS Interface LSI (Satomaru)
Coupled PZT Resonator Array, TR13 Poster (Nicolas)
LSI Wafer Bonding, NHK Openhouse Poster recycled (Goto-kun)
THz Filter (Zhengli and Tapio)
Programmable Antenna from your D1 Rinko (Yong)
Interactive Display (Jeon & Stanley)
Artificial Worm, Research Plan for your M1 Rinko (Junan)
OCT, Promotion Poster from Company (Kiyo)
RF-MEMS VCO, Urayama-san Poster at MEMS13 (Toshi)