2020-01-20 (月) 15:53:49 (172d)
遠山 幸也(トオヤマ ユキヤ)
Yukiya TOHYAMA †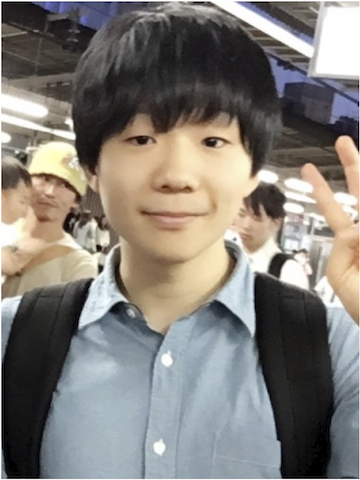 東京大学 工学系研究科電気系工学専攻所属
Department of Electrical Engineering and Information Systems
Graduate School of Engineering, The University of Tokyo
博士後期課程 / Doctoral Student
連絡先 : tohyama [at] iis.u-tokyo.ac.jp
研究内容
Research Project(s) †
非定常環境振動のもとで高効率発電可能な振動発電素子 †
略歴
Education History †
2019.4 -  東京大学大学院 工学系研究科 電気系工学専攻 博士後期課程(年吉研究室) 在籍
2019.3 東京大学大学院 工学系研究科 電気系工学専攻 修士課程 (年吉研究室)修了
2015.3 東京大学 工学部電気電子工学科(三田研究室)卒業
発表文献リスト
Publication †
原著論文
Journal †
Yukiya Tohyama, Brieux Durand, Hiroaki Honma, Tatsuhiko Sugiyama, Gen Hashiguchi, and Hiroshi Toshiyoshi, "An Analytical Model of MEMS Electret Energy Harvester with Long-stroke Tip-sliding Electrodes", Sensors and Materials, Vol. 31, No.9(2), 2019, pp. 2779-2802. https://doi.org/10.18494/SAM.2019.2388
Hiroaki Honma, Yukiya Tohyama, Hiroyuki Mitsuya, Gen Hashiguchi, Hiroyuki Fujita, and Hiroshi Toshiyoshi, "A Power-Density-Enhanced MEMS Electrostatic Energy Harvester with Symmetrized High-Aspect Ratio Comb Electrodes", Journal of Michromechanics and Microengineering, Vol. 29, 2019, p.084002. https://doi.org/10.1088/1361-6439/ab2371
Yukiya Tohyama, Yuki Okamoto, Shunsuke Inagaki, Mikio Takiguchi, Tomoki Ono, Eric Lebrassur and Yoshio Mita, "High-uniformity centimeter-wide Si etching method for MEMS devices with large opening elements", Japanese Journal of Applied Physics, The Japan Society of Applied Physics, Vol.57, No. 4S, P. 04FC03, 2018.
査読付き国際会議論文
Reviewed International Conference †
, Hiroaki Honma, Noboru Ishihara, Hidehiko Sekiya and Hiroshi Toshiyoshi, and Daisuke Yamane, "Energy Harvesting from Non-Stational Environmental Vibrations using a Voltage-Boost Rectifier Circuit," The 19th International Conference on Micro and Nanotechnology for Power Generation and Energy Conversion Applications(PowerMEMS 2019), Kraków, Poland, December 2019(Poster)
, Hiroaki Honma, Noboru Ishihara, Hiroshi Toshiyoshi, and Daisuke Yamane, "BANDWIDTH ENHANCEMENT OF VIBRATIONAL ENERGY HARVESTERS BY A VOLTAGE-BOOST RECTIFIER CIRCUIT," The 20th International Conference on Solid-State Sensors, Actuators and Microsystems(Transducers 2019), Berlin, Germany, June 2019 (Poster, Lates News)
, Yukiya Tohyama, and Hiroshi Toshiyoshi, "A 1.3 MILLIWATTS ELECTROSTATIC VIBRATIONAL ENERGY HARVESTER WITH MINIMAL REACTIVE POWER THROUGH REDUCED INTERNAL STRAY CAPACITANCES," The 20th International Conference on Solid-State Sensors, Actuators and Microsystems(Transducers 2019), Berlin, Germany, June 2019(Oral)
, Hiroaki Honma, Noboru Ishihara, Hidehiko Sekiya and Hiroshi Toshiyoshi, and Daisuke Yamane, "A Voltage-Boost Rectifier Circuit for Environmental Vibrations," The 18th International Conference on Micro and Nanotechnology for Power Generation and Energy Conversion Applications(PowerMEMS 2018), p. PT-11d, Daytona Beach, United States, December 2018(Poster)
Yuki Okamoto, , Naoto Usami and Yoshio Mita, "The large-area backside etching method by changing backside layout using loading effect and ARDE for foundry-based fabrication", International Conference on Solid State Devices and Materials(SSDM), pp. 267-268, Sendai, Japan, September 2017(Oral)
国内大会
Domestic Meetings †
, 本間浩章, 年吉洋, 「ランダム環境振動加速度波形データを用いた振動発電素子の等価回路挙動解析」, 第 35 回「センサ・マイクロマシンと応用システム」シンポジウム, 札幌, p. 31am3-PS-109, 2018 年 10 月(ポスター)
その他
Others †
, 本間浩章, 三屋裕幸, 年吉 洋, 「広帯域振動発電のための電気Q値設計手法」, JST「微小エネルギーを利用した革新的な環境発電技術の創出」令和元年度第 1 回合同領域会議, TKP ガーデンシティ博多アネックス, 博多, 2019 年 5 月 21 日〜 23 日(ポスター)